INFRASTRUCTURE
Air-Conditioned Classrooms
The entire school building is equipped with air conditioners. Huge windows provide good ventilation and sunlight into the spacious classrooms. Age relevant furniture like desks and chairs enhance the comfort of students in a learning environment.
Library
School maintains a well-organized library with ample seating capacity. The library is stocked with a number of books, classified in different genres. A systematic catalog is maintained to make the transaction of books easy for students.
Music Room
A modern Music room is equipped with musical instruments like guitars, keyboards, drums, and other instruments providing students the opportunity to try and understand their innate creative skills.
Basketball Court
A court with all safety measures and perfect flooring, giving the students the chance to master the sport on a professional court. A spectator gallery is present adjacent to the court for the spectators to enjoy the tournaments conducted.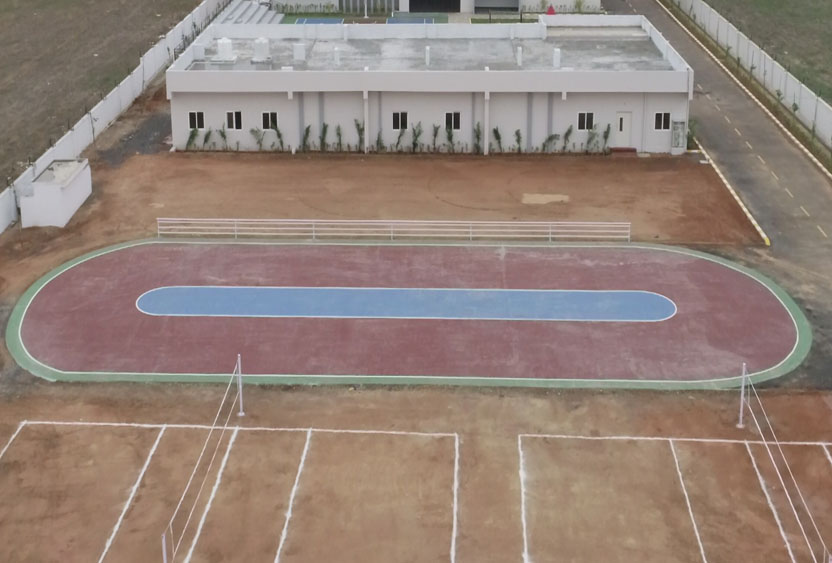 Skating Rink
A specialized skating arena with polished flooring is available in the school premises where the students can master the fun-filled sport under the guidance of an experienced coach.
Children's Play Park
The Children's Play Park present in the school has several recreational equipment such as merry-go-round, seesaw, slides, and chin-up bars for different age groups which provides the students an environment that facilitates outdoor play, physical co-ordination, strength, and flexibility.
ICT Lab
A well-equipped computer lab with advanced computers having access to LAN connection is provided in the school. A projector is also arranged in the lab to equip class delivery with a seating capacity of about 40-50 students at a time.
Science Lab
A Science laboratory which serves the requirement for practical approach to sciences is available in the campus. The laboratory is big enough to accommodate a whole class, where every child can have hands-on experience during practicals.
Math Lab
Students can experience a real time practical application of the mathematical concepts learnt in class in the Math lab. The lab comprises mathematical manipulators and devices to make the concepts clear to students through hands-on experience.
Amphitheater
An open-air venue is present with the seating arrangement for more than 300 audience to accommodate all sorts of programs, events and ceremonies conducted in the school.
Dining Hall
There is a well-ventilated and spacious dining hall in the school with a seating capacity to accommodate about 200 students at a time. Clean and hygienic water dispensers, hand wash stations are provided adjacent to the hall.
Infirmary
A hygienic dedicated space is provided for students to rest and recover from health issues. The room is stacked with first aid medical supplies where professional help is given in case of medical needs.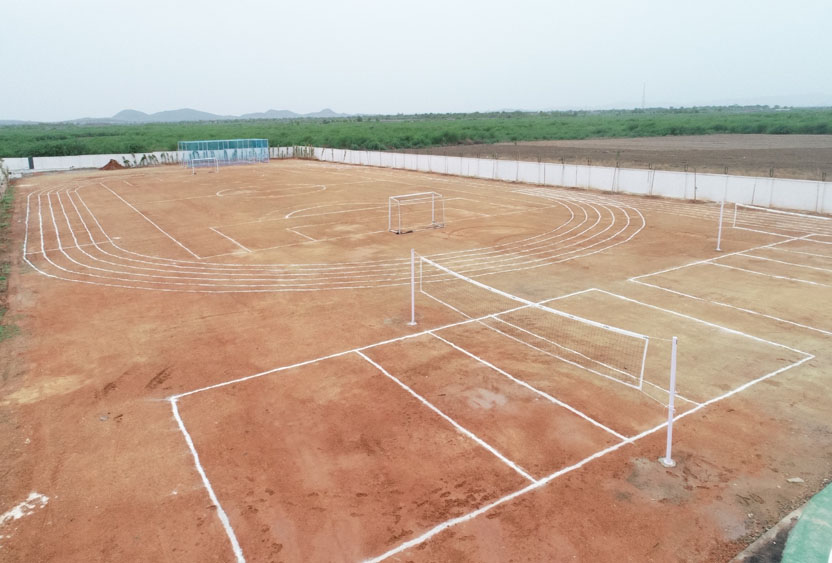 Spacious Playground
School playground consists of various play areas for different sports and games. It consists of a Cricket ground which can accommodate a full-fledged cricket team to play matches and space for the spectators and a Volleyball court is also a part of our playground with trained coaches to cater students.